The new LEXIS 3800 trailed sprayer completes the range from the top.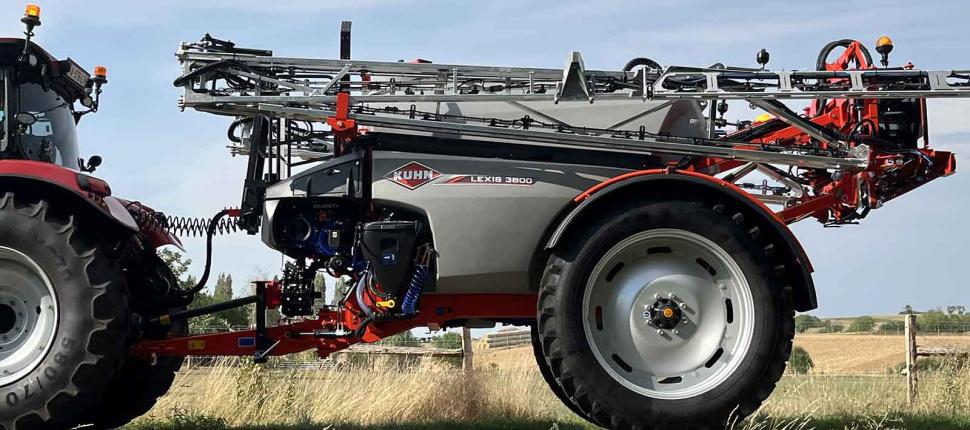 LEXIS 3800 trailed sprayer: what's new?
The new LEXIS 3800 trailed sprayer complements the LEXIS family with a 3,800 l nominal capacity. This machine comes with new features improving its performance.
Thanks to its design, the LEXIS 3800 is a compact and lightweight machine:
Maximum length of 6.90 metres
Hitch-to-axle length of 4.30 meters
Overall width of 2.55 metres
Barely more than 3 t empty with aluminium booms up to 28 meters.
New Ø1.85m tires with VF option from 320 to 520mm are also fitted to this machine and contribute to soil preservation by limiting compaction.
The gyroscopic device of the TRACK ASSIST steering drawbar coupled with a short tow eye-axle distance of 4.30m allow the LEXIS 3800 to be perfectly in line with the tractor wheel tracks.
The key markers that have built the reputation of the LEXIS range
Perfectly suited to mixed and cereal farms with tanks of 2,400, 3,000 or 3,800 l and booms of 18 to 28m, the LEXIS family retains its numerous assets:
Simple machines owing to the MANUSET solution or the DILUSET+ version for assisted management of filling and dilution of residual volumes.
No compromise on precision with CCE individual nozzle control by GPS or BOOM ASSIST EXTREME ground contour following system.
Connected sprayers thanks to the KUHN CCI Connect solutions, associated with the MyKUHN portal.
All these benefits make the LEXIS a resolutely economical machine without compromising on productivity or quality of work.